Communicate. Coach. Connect.
Build Better Outcomes & Scale  Coaching Skills to Create a Feedback Culture at Your Organization
Imagine a workforce with the courage and skill to unearth truth, grapple with difficult issues, unlock collaboration, and create a liberating space for discovery and action — in real time, while doing real work.
It's possible, with a feedback culture where people feel free to hold candid conversations with one another. Scale coaching skills and create a climate of feedback at your organization with a foundation of better conversations.
BCE at a Glance
Leader Level: Employees at all organization levels.
Program Fee: $1,350/Person
Length: 1:00-2:00 PM ET (Kick Off) 1:00-5:00 PM ET Days One & Two
Instructor/Participant Ratio: 1:4
Delivery Format: Live Online
Upcoming Dates:  BCE is offered multiple times throughout the year at Eckerd College.
Registration
CCL's Approach:
CCL's approach is culture change, not manager training.
The Better Conversations Every Day™ program is a simple, evidence-based, and practical one-day experience to build coaching skills. Participants learn 4 core behaviors and practice the types of candid conversations that build stronger relationships through trust, fuel collaboration, and enable better business outcomes.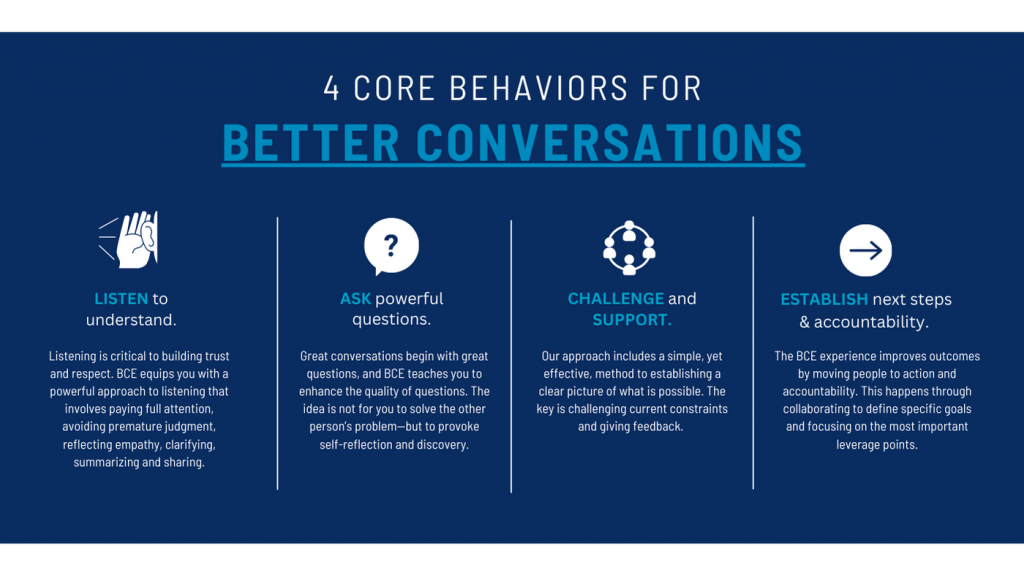 This scalable program helps creates a common mindset, skillset, and leadership language at your organization and build a coaching culture of feedback. It equips your people with the expertise, tools, and motivation to break down silos and bring your business strategy to life.
What Participants Learn in this Coaching Conversations Training
Better Conversations Every Day™ applies a simple and practical approach to teaching a set of complex skills. We focus on 4 core behaviors applied to real workplace challenges to build the trust, psychological safety, collaboration, inclusion, resilience and emotional intelligence needed to thrive in today's hybrid work environment.
As a result of participating in this coaching conversations training program, participants will be able to:
Break down silos and communication barriers;
Develop the conversation and coaching skills needed to thrive in the hybrid workforce;
Unlock employee engagement;
Accelerate emotional intelligence at every level;
Address issues with openness and respect;
Transform performance management with a feedback culture; and
Scale a candid coaching culture across your entire organization.
What Challenges Can Coaching Conversations Address?
The skills taught in Better Conversations Every Day™ go far beyond simple conversations. They enable leaders to meet a variety of challenges, inside and outside the workplace:
Leading and sustaining culture change;
Confidently managing high-stakes negotiations;
Establishing or improving relationships;
Embracing diversity;
Developing and retaining talent to support the future needs of the organization; and
Bolstering resilience and reducing burnout.
Why Better Conversations Every Day™ at Eckerd College?
Reputation of Excellence
Eckerd College Leadership Development Institute (LDI) has been a Network Associate of the renowned global training provider Center for Creative Leadership (CCL) since 1981 and has delivered internationally acclaimed programs to thousands of local, national and international clients.

Since its inception, LDI has enjoyed a reputation for excellence and quality in education and training.

Our senior faculty team consists of highly trained and experienced professionals with diverse business and academic backgrounds. They are content experts with advanced degrees and coaching credentials and are trained to work closely and collaboratively with individual leaders and within their organizational structures.
Why Attendees Chose Eckerd
Top Ranked Institution and World-Renowned Executive Education
Eckerd College is one of 

The Princeton Review's

 

Best 387 Colleges (2022)

, a member of Phi Beta Kappa and one of 40 schools featured in the book 

Colleges That Change Lives

.

In addition to our designation as a CCL Network Associate, LDI is an Education Partner of the international association, the Society of Human Resource Management. 

Eckerd's Certified Workplace Mediator and Trainer (CMT) program is accredited by the International Mediation Institute.

LDI's proprietary assessments the Conflict Dynamics Profile (CDP) and Entrepreneurial Mindset Profile (EMP) are utilized globally by over +4000 certified practitioners.
High-Quality, Assessment-Based Program Content
Rich, research-based content is focused on what matters most for first-time and front-line managers.

Intense, personalized feedback gives participants an assessment of important competencies and a plan for learning.

The interactive, hands-on format prepares participants to take action back at work. Coaching and take-home tools support newly enhanced skills of influencing, conflict resolution and communication.

Participants consistently rate LDI programs 4.8 or higher on a 5-point scale in both value and enjoyment. Often, the ratings don't even fully reflect the impact our programs have had on the individual lives and careers of attendees who have participated in LDI programs at Eckerd College.

Low instructor/participant ratio: 1:4.
Please do not hesitate to contact us if you have any questions at (800) 753-0444 or (727) 864-8213 or email us at 
ldi@eckerd.edu
.