SHRM-CP and SHRM-SCP Certification Programs
The online course, led by Terry Marschall, SHRM-SCP Certified Instructor, and Senior Faculty Member, helps you engage in stimulating discussions, learn from peers, and benefit from a structured environment that keeps you on track.
Eckerd College's SHRM Program participants consistently outperform other SHRM Certification candidates. [See the pass rates for SHRM-CP and SHRM-SCP below.]

SHRM at a Glance
REGISTRATION OPEN!
Program Fee: $1,595/Person *
Location: Live Online
Upcoming Dates: September 18-December 13, 2023
Mondays 6:00 – 8:30 PM ET (excluding holidays)
Two Thursday Study Sessions 6:00-8:00 PM ET (dates TBD)
* $100 Off for SHRM Members, Military or Eckerd College Alumni. 
No Interest Payment Plans Available!
Registration
We can help you overcome your biggest obstacles
Time. Our instructor will lead you through the most efficient and effective way to earn your certification.
Cost. Save money and time by preparing the right way, the first time. Plus, our course qualifies for most employer tuition reimbursement programs.
Why Invest in SHRM Certification?
Expand your scope within the HR field and bring new ideas to drive business success within your organization.

Examine on-the-job scenarios and realistic work situations which are immediately applicable.

Stand out from other HR candidates in a job search.

Gain industry knowledge based on in-depth research backed by global employers and business leaders.

Join the community of organizations—including Fortune 100 companies—who have adopted SHRM-CP and SCP credential as an industry standard for the HR leaders.
Online classroom sessions include:
Interactive discussions and learning between peers and the SHRM Instructor;
Hands-on activities to drive learning and comprehension;
Models, tools, and guidance on how to apply the material to current HR roles;
Practice quizzes and activities that simulate the SHRM exam process;
A high-level review of the SHRM Learning Systems materials and resources;
An understanding of the practical application of HR competencies and knowledge;
Sample assessment questions;
Study and test-taking tips; and
Insight into what to expect at the testing location on SHRM exam day.
"Even after six years of experience as an HR Generalist, the SHRM Certification class offered at Eckerd College enlightened me to how much more there is to offer as an HR Professional. The various ways of accessing the learning material—from books, hand-outs and websites to the classroom instruction which promoted participation and encouraged sharing—were wonderful and allowed for no excuses but to excel! I would recommend it highly.

Renee Dellacroce, SHRM-CP

Regional HR & Payroll Administrator
Why Enroll?
The Benefits of SHRM Certification
Offered in partnership with the Society for Human Resource Management (SHRM), the curriculum provided in the SHRM Learning System is designed by global subject matter experts and covers the entire SHRM Body of Applied Skills and Knowledge™ (SHRM BASK™). Throughout the program, HR professionals are encouraged to acquire the Skills and Knowledge they'll need to effectively perform their jobs and achieve career success. Our course is designed to help you learn and retain the material effectively and efficiently by combining the best exam preparation system with expert instruction and peer discussion.
Eckerd College's SHRM Certification Online Program offers you a preparation course to help meet your needs and increase your success on the SHRM-CP and SHRM-SCP exams.
For experienced managers ready to take leadership to the next level, this flagship 5-day Center for Creative Leadership (CCL®) program has been in use for over 40 years and is ranked as one of the top programs of its kind. Based on the most recent leadership research, this developmental process uses a variety of in-depth self-awareness tools and activities to enhance leadership capabilities for driving results.
New and Junior HR Practitioners

who need to increase their knowledge base.

New or Experienced Managers

who need to learn more about employee management skills.

Small Business Owners or Office Managers

who perform the HR function for their companies.

Business Managers who want to learn basic HR best practices to avoid costly litigation.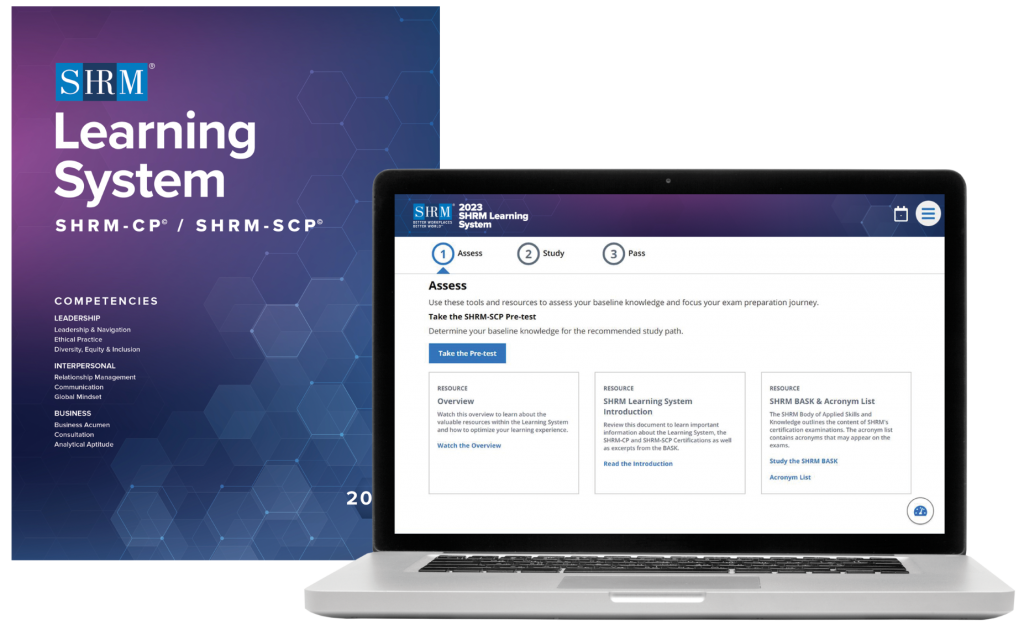 THE COURSE INCLUDES THE 2023 SHRM LEARNING SYSTEM FOR SHRM-CP/SHRM-SCP.
Benefits to You
YOU WILL BENEFIT FROM: 
An experienced, SHRM-certified instructor. 

The SHRM Learning System historically ranked the #1 HR certification prep tool. 

Ability to acquire the knowledge and understand the behavioral competencies to help you prepare for the exam. 

A structured learning experience that keeps you on track. 

Opportunities to network and learn from your peers. 

Eligibility for tuition reimbursement. 

Earning up to 36 professional development credits (PDCs) if you are attending this program for professional development only.
Benefits to Your Employer
CERTIFICATION BENEFITS YOUR ENTIRE ORGANIZATION:
"I loved the instructor-led SHRM Learning System course. Rather than just teaching facts and figures, the course has improved my critical thinking skills as an HR professional.

Lisa Karahan, SHRM-SCP
As an official SHRM Education Partner, we are able to build our course on the SHRM Learning System, giving you access to the most comprehensive, effective and up-to-date exam preparation tools available. The 2023 SHRM Learning System delivers:
Effective and Proven Results – Candidates who use the SHRM Learning System consistently beat the average exam pass rate.
One Source for Knowledge & Application – All the study tools you need to understand, apply and engage with behavioral competencies and HR knowledge.
Current and Relevant Content – The SHRM Learning System has been updated to align with the 2023 SHRM BASK, the defined standard for knowledge and competencies required of HR professionals around the world.
Convenient 24/7 Access – To your study tools from any mobile device, tablet, or computer.
The SHRM Learning System is comprised of four modules of study based on the SHRM BASK: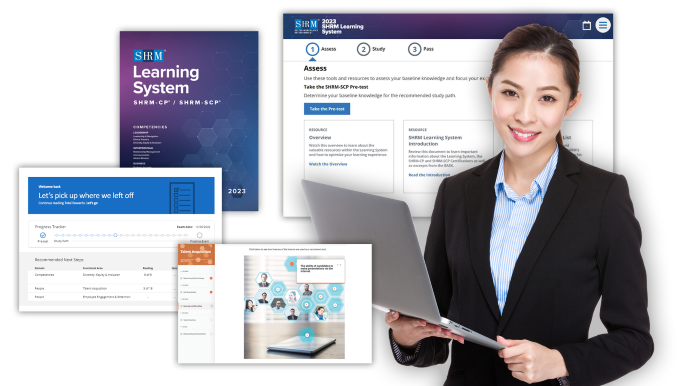 Module: Behavioral Competencies
Leadership: Ethical Practice, Diversity, Equity and Inclusion, Leadership and Navigation
Interpersonal: Communication, Relationship Management, Global Mindset
Business: Business Acumen, Consultation, Analytical Aptitude
Module: People
HR Strategy

Talent Acquisition

Employee Engagement

Learning and Development

Total Rewards
Module: Organization
Structure of HR 

Organizational Effectiveness and Development

Workforce Management

Employee and Labor Relations

Tech Management
Module: Workplace
Managing Global Workforces

Risk Management

Corporate Social Responsibility

Employment Law and Regulations (U.S. Only)
Custom & On-Site
Training Options
In addition to our SHRM open-enrollment offerings, we also deliver both the SHRM-CP and SCP Exam Preparation programs and the Essentials of HR program exclusively for a group or team from a single organization. 
All SHRM courses can be offered on a contract program basis. Other popular program topics include leadership effectiveness, team building, conflict resolution, executive communications and managing change.
Please do not hesitate to contact us if you have any questions at (800) 753-0444 or (727) 864-8213 or email us at 
ldi@eckerd.edu
.