SHRM-CP and SHRM-SCP Exam Preparation Programs
Why Invest in SHRM Certification?
Expand your scope within the HR field and bring new ideas to drive business success within your organization.

Examine on-the-job scenarios and realistic work situations which are immediately applicable.

Stand out from other HR candidates in a job search.

Gain industry knowledge based on in-depth research backed by global employers and business leaders.

Join the community of organizations—including Fortune 100 companies—who have adopted SHRM-CP and SCP credential as an industry standard for the HR leaders.
For experienced managers ready to take leadership to the next level, this flagship 5-day Center for Creative Leadership (CCL®) program has been in use for over 40 years and is ranked as one of the top programs of its kind. Based on the most recent leadership research, this developmental process uses a variety of in-depth self-awareness tools and activities to enhance leadership capabilities for driving results.
Find Out More
Our certification exam preparation course is designed primarily for individuals seeking SHRM-CP or SHRM-SCP certification or those interested in recertification. 
Learn More About the SHRM Exam Prep Course!
Custom & Onsite
Training Options
In addition to our SHRM open-enrollment offerings, we also deliver both the SHRM-CP and SCP Exam Preparation programs.
All SHRM courses can be offered on a contract program basis. Other popular program topics include leadership effectiveness, team building, conflict resolution, executive communications and managing change.
Learn More About Custom Programs
SHRM-CP & SHRM-SCP
Recertification Programs
If you have earned the SHRM-CP or SHRM-SCP credential, you have a three-year recertification period to earn 60 Professional Development Credits (PDCs). As a SHRM Education Provider, Eckerd College is available to help you continue to build your knowledge and earn PDCs.
View Our SHRM-Approved Programs & Credits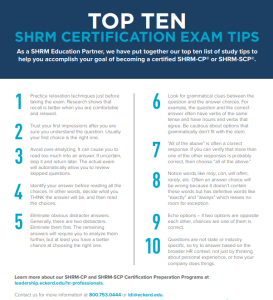 Study Smarter with our SHRM Exam Tips
10 SHRM Exam tips from our SHRM-SCP certified instructor to help you prepare and feel confident on exam day.