Our partner, the Center for Creative Leadership (CCL), offers numerous publications directly related to the lessons learned in our programs. Please visit CCL's publication site to view their extensive library. Online reviews and purchasing are also available.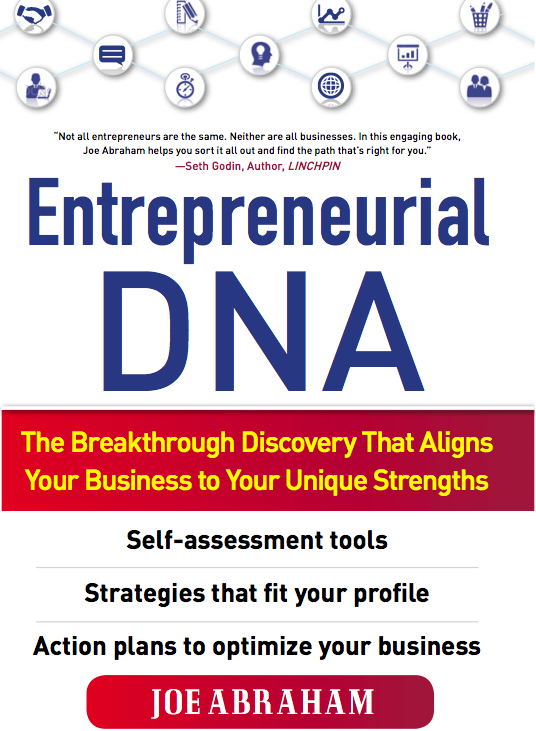 Entrepreneurial DNA: The Breakthrough Discovery That Aligns Your Business to Your Unique Strengths
Joe Abraham
What's your entrepreneurial style? For centuries, entrepreneurs have been placed in one box. In fact, the common mindset has been, "If it worked for one entrepreneur, it will work for every entrepreneur. After all, entrepreneurs are all the same." But, are all entrepreneurs really the same? Sure, we can intuitively deduce that not everyone is a "Richard Branson", and not everyone innovates like the late Steve Jobs, but is there more to it than meets the eye? Entrepreneurial DNA proves there are massive implications to how each individual is wired as an entrepreneur. It shatters the archaic notion that one-size-fits-all and allows each reader to discover their unique DNA.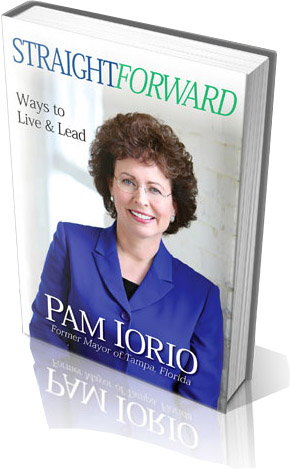 Straight Forward Leadership: Ways to Live & Lead
Pam Iorio
In Straightforward: Ways to Live and Lead, Pam Iorio examines the qualities, traits, characteristics, and competencies of the straightforward leader. It is for the individual who is ready to improve his or her leadership abilities and achieve more. Straightforward leadership is distinctly direct, clear, honest, strategic, and respectful. It provides room for compromise and seeks to bring people together instead of dividing them. This brand of leadership is pragmatic, not ideological; solution-based, and results-oriented. It empowers others and recognizes the importance of on-going development, learning, and change.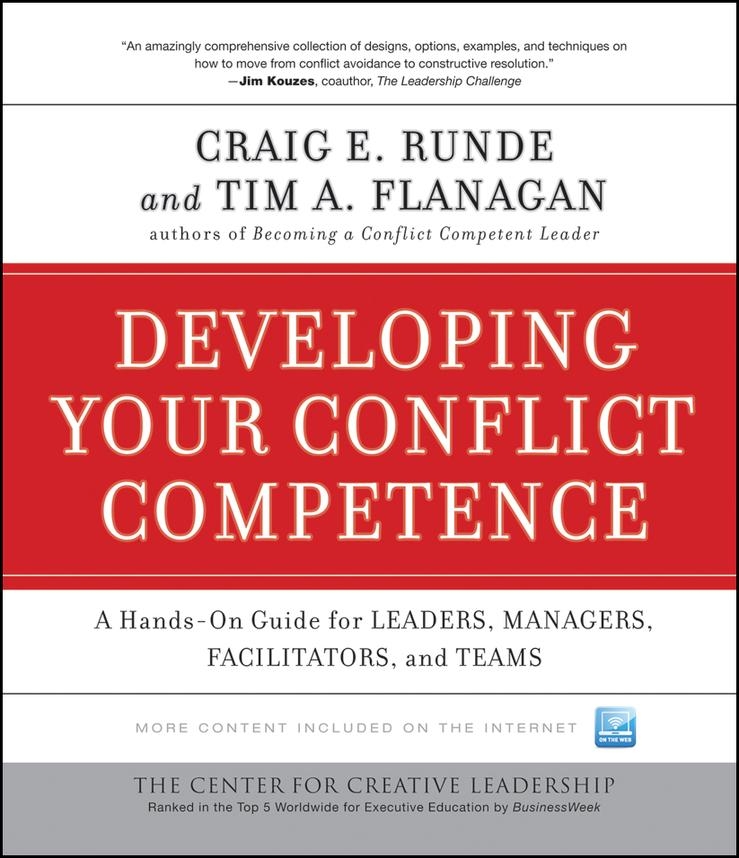 New Book on Conflict:
Developing your Conflict Competence
LDI instructors, Craig Runde and Tim Flanagan are the co-authors of a third new book entitled, Developing Your Conflict Competence. The book, published by Jossey-Bass as part of their Center for Creative Leadership series, provides practical suggestions and exercises for improving the ability of individuals, teams, and organizations to manage conflict effectively. A number of the techniques and stories were provided by CDP users.
The book has garnered some good endorsements including:
Jim Kouzes, co-author of The Leadership Challenge, call this, "A must-see guidebook for the new age of global business. This book shows every leader how to turn feelings of fear into feelings of safety, suspicion into trust, and competitiveness into collaboration."
Marshall Goldsmith, author of What Got You Here Won't Get You There, Succession: Are You Ready? and MOJO says, "Craig Runde and Tim Flanagan use their vast experience to give us Developing Your Conflict Competence. Move beyond negative workplace conflict to positive and constructive outcomes with the simple tools and suggestions in this must-read field guide."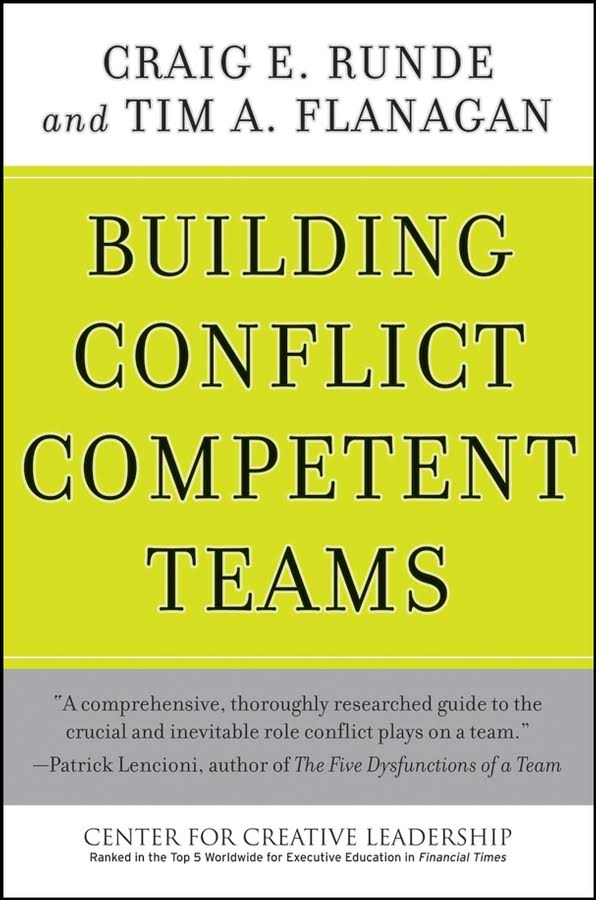 Book Helps Teams Use Conflict Constructively:
Building Conflict Competent Teams
When at least two people are together for any length of time, conflict is inevitable. For teams, conflict can be destructive. Can that conflict be leveraged? Craig Runde and Tim Flanagan, educators at the Leadership Development Institute at Eckerd College, believe that every team can learn how to deal with conflict. After interactions with hundreds of individuals in the field, in the assembly line, and from every rung of the proverbial business ladder, Runde and Flanagan's new book, Building Conflict Competent Teams(Jossey-Bass, June 30, 2008), provides team leaders and members with the skills and confidence to engage conflicts in ways that work for the team's advantage.
"Conflict happens on the best of teams," says leadership consultant Ken Blanchard, bestselling coauthor of The One Minute Manager®. "Building Conflict Competent Teams shows team leaders as well as team members how to constructively tackle the challenges that come when people disagree. This book is a must-read for anyone who wants to lead, or belong to, a high-performing team."
As a follow-up to Becoming a Conflict Competent Leader (Jossey-Bass, 2007), Runde and Flanagan's second book explains how team conflict often begins, offers methods on how to handle conflict effectively, and makes specific suggestions on how to harness the upside of conflicting ideas and viewpoints. Through engaging examples, stories, and interviews that provide insights into the ways teams handle their differences, the authors outline the skills, tactics, and competencies team leaders and members can use to address conflict when it occurs.
Building Conflict Competent Teams is a guide for anyone who wants to develop the self-awareness and constructive behavior patterns that will enhance their team experience.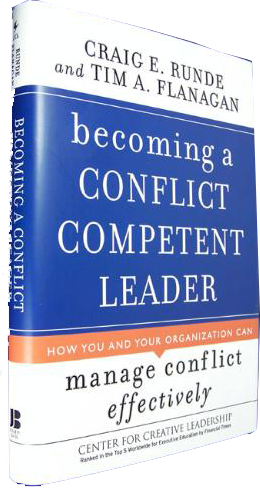 Book Offers Tools to Become Conflict Competent:
Becoming a Conflict Competent Leader
Becoming a Conflict Competent Leader gives leaders an insight into the importance of handling conflict effectively. It also provides them with a roadmap of how to ensure that they and their organization become conflict competent.
Conflict is an inevitable fact of organizational life. While it has the potential to become destructive, conflict also contains within it the seeds of creativity and vitality. Conflict competent leaders know how to address it to make the most of the opportunities it presents while at the same time preventing harmful outcomes.
Craig Runde and Tim Flanagan, authors of Becoming a Conflict Competent Leader, are instructors at the Leadership Development Institute at Eckerd College (LDI), a network associate of the Center for Creative Leadership. They decided to write the book after becoming convinced that organizations needed to improve the way they handle conflict and that for this to happen leaders needed to champion the process.
In its opening chapter, Becoming a Conflict Competent Leader explores the importance of conflict competence. This is followed by an introduction to the dynamics of conflict and a chapter aimed at helping leaders understand how they currently view and respond to conflict. At its heart, the book provides practical recommendations for learning how to use constructive behavioral responses to conflict while at the same time lessening destructive ones. It concludes with a chapter about how leaders can work to improve the overall conflict culture of their organization. The behavioral approach used in the book draws from the model underlying the Conflict Dynamics Profile® assessment instrument developed by LDI.
Praise for Becoming a Conflict Competent Leader
"If workplace conflict is inevitable, becoming a 'conflict competent leader' is one of the most valuable skill sets a leader can possess. Runde and Flanagan clearly lay out how destructive conflict can be prevented while fostering the kind of constructive debate and creative solutions which businesses need to thrive."
– Joanne McCree, former vice president, human resources, IBM
"Their ability to assimilate and describe what managers actually face in dealing with conflict is a key factor in making this book unique from others. No self-help manual on handling conflict that I've ever seen addresses the basics like this book."
– Kenneth Bradt, past president, Society of Consulting Psychologists
"Competency in managing conflict is perhaps the most under-recognized component of successful leadership. This book, once read, should remain on the shelf of every leader for handy reference."
– Dan Dana, Mediation Training Institute International; author, Managing Differences
"Craig Runde and Tim Flanagan know conflict! Better yet, they are able to guide the reader through an understanding of its dynamics from onset to resolution thereby helping all of us to become more 'active constructive' leaders."
– Michael Katos, The Katos Group LLC, Law Practice Management Consulting
"Our personal professional development is a constant pursuit in our quest to be the best we can possibly be. Dealing with conflict is a given in any leadership position. Becoming a Conflict Competent Leader serves as a great resource for any leader to better understand and manage conflict."
– MaryEllen Elia, superintendent, School District of Hillsborough County, Tampa, Florida.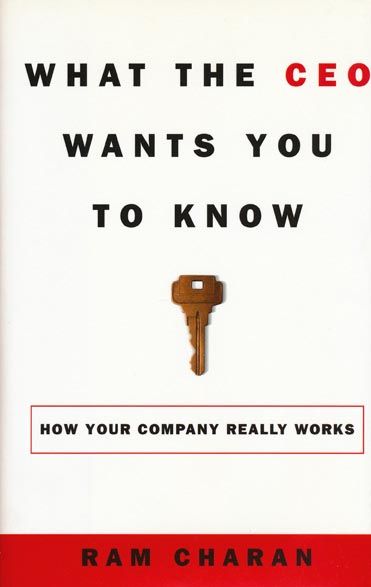 What the CEO Wants You to Know
Charan, Ram; Crown Publishing, 2001.
The best CEOs have a knack for bringing the most complex business down to the fundamentals the same fundamentals of the family shoe shop. They have business acumen the ability to focus on the basics and make money for the company. What the CEO Wants You to Know captures these insights and explains in clear, simple language how to do what great CEOs do instinctively and persistently:
Understand the basic building blocks of a business and use them to figure out how your company makes money and operates as a total business.
Decide what to do, despite the clutter of day-to-day business and the complexity of the real world.